Queue Management Hardware
Touch Screen Kiosks & Digital Signage for Queuing
Our floor standing and countertop kiosk hardware options pair perfectly with your QueueKiosk™ solution. Or, go without a kiosk and choose Q'ssentials™. Both solutions can come equipped with a configurable Wall-Mounted Status Board.
Kiosk Hardware Options
In our years of experience in the self-service industry, we've identified the hardware that works best for queue management. Choose from one of our recommended options or
talk to a representative today
about other available hardware.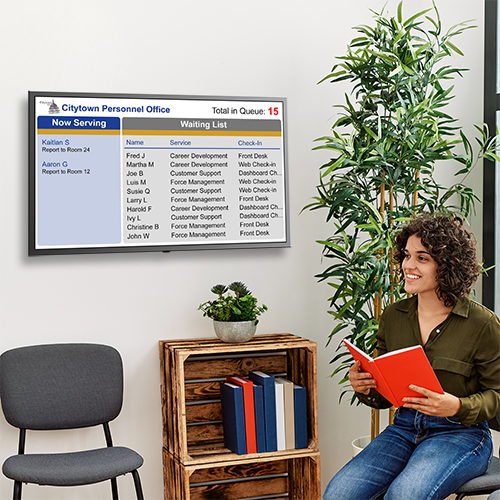 Status Boards / Wall-Mounted Digital Signage
QueueKiosk solutions work well with a Status Board, which is digital signage that lists customers in the queue. Your customers can rest assured that their check-in process went smoothly when they see their name appear on the waiting list. The monitor also accommodates an area to display one of the following, configurable via the admin dashboard:
A "Now Serving" list with customizable messages for each customer letting them know where to report
A News Scroller to relay important messages and news to your customers
Average wait times for your facility based on a given period
Get started managing your customer flow today
We're confident our virtual queuing technology will dramatically improve your customer experience. Contact us today for a no-obligation QueueKiosk and Q'ssentials price quote and consultation!